The Primex Surface Mount Wall Vent (SM Series) is the perfect replacement for existing bathroom or range hood exhaust terminations. The SM Series is easy to install and aesthetically pleasing. The seamless, low-profile, one-piece design accommodates standard 4-6 inch ducting. UV-stabilized polymer resin offers long-lasting protection while reducing leaks.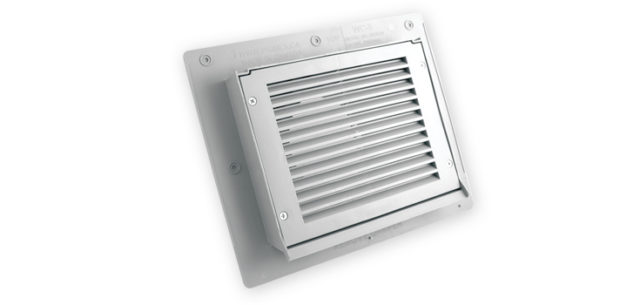 The Primex Wall Cap Intake (WCI) has been designed with many of the weather beating features as our WC series of wall caps. This air intake unit incorporates the best features of our patented wall cap with a low-profile intake hood. Designed to work as an intake vent for furnaces, gas appliances, fireplaces, hot water tanks, air conditioners and anywhere else fresh air makeup is required. Available in 5 or 6 inches.
The Primex Low-Profile Wall Cap (WC28) is built for the exhaust of dryers, bathroom/kitchen fans, stove vents, and intake for furnaces, fresh air make-up, and attic venting. The standard configuration of the WC28 comes with a removable screen and damper. The 4 to 8-inch adapters are sold separately.
The Primex Wall Cap Series (WC) is ideal for exhaust and intake applications. This includes the through-wall exhaust of dryers*, bathroom kitchen fans and stove vents, and the intake for furnaces and fresh air make-up. This rainscreen-compatible series comes in sizes ranging from 3-8 inches and in multiple colours.
The Primex Soffit Intake and Exhaust Vent (SV28) is ideal for 4-8 inch ducts that require venting with a damper. This versatile unit allows for the termination of kitchen, bath and dryer vents. The SV28 is designed to prevent pests, birds and rodents from entering the home. Multiple configurations available: with damper and screen, with screen only as intake, with damper and no screen as dryer vent.
The Primex 6x9 Soffit Vent (SV6x9) is a versatile venting solution ideal for attic ventilation, trailer skirting and anywhere additional air flow is needed. This durable vent includes a molded-in mesh screen and is quickly and easily installed to last.
The Primex Round Soffit Vent Series (RDV) is a versatile venting solution for either intake or exhaust applications. This series comes in sizes from 2 to 6 inches and provides a secure fit with UV-stabilized polymer resin. Use with the Primex 4" Squeeze Elbow for installations where space is limited (RDV4's only).