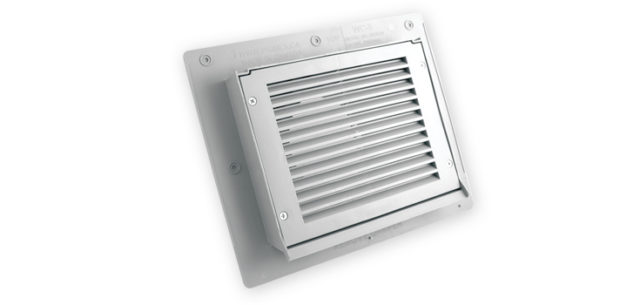 The Primex Wall Cap Intake (WCI) has been designed with many of the weather beating features as our WC series of wall caps. This air intake unit incorporates the best features of our patented wall cap with a low-profile intake hood. Designed to work as an intake vent for furnaces, gas appliances, fireplaces, hot water tanks, air conditioners and anywhere else fresh air makeup is required. Available in 5 or 6 inches.
The Primex Flat Extended Brick Wall Cap (WCXF) increases the depth of the wall cap for use on the outside of brick and masonry structures while maintaining a very low profile. Available in 4", 5", and 6" sizes, this rainscreen compatible unit provides excellent, long term water protection.
The Primex Low Profile Intake Vents (WCL Series) eliminate leaky joints while maximizing water protection with a one-piece molded base and built-in drip edge. These vents feature an attractive low profile design and fit 7" and 8" diameter ducts. They are rainscreen-compatible via the extended base which compensates for the cavity between sheathing and cladding.
The Primex Low-Profile Wall Cap (WC28) is built for the exhaust of dryers, bathroom/kitchen fans, stove vents, and intake for furnaces, fresh air make-up, and attic venting. The standard configuration of the WC28 comes with a removable screen and damper. The 4 to 8-inch adapters are sold separately.